Stop Spending Hours Grading Student Papers!
eGrader 3.0 For Windows
Try Free For 10 Days!!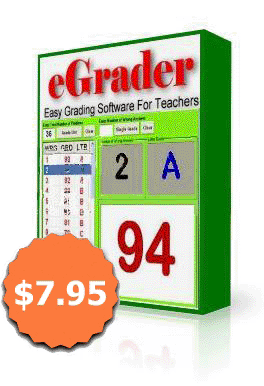 Enter the total number of problems and click on the "Enter" key on your keyboard or click on the "Grade List" Button.
A list of wrong answers, number grades and letter grades will appear in the grade list boxes. Click on a item in the list of wrong answers and grades in the list box on the left side of the screen and the corresponding grades will appear in the text boxes on the right side and middle of the screen.
Each grade has three different displays, the wrong answer display, a number grade display and a *NEW* letter grade display. You can set your own letter grade parameters based on your particular grading scale. Each license is only $7.95/Year.
eGrader 3.0 New Functionality Includes:
New Printing Functionality for Grade Cards

New Letter Grade Parameter Settings

New and Easy Viewing of Incorrect Answers and Grades Using the Grade Card
New Larger Grade Display
New Separate Displays for Wrong Answers, Number Grades and Letter Grades
New Background Color Options
Free Classroom Timer included
Help File
Download Now!